Peer Recovery Center
Our Peer Recovery Center offers free, one-on-one peer support services for individuals seeking recovery for substance use, gambling, mental health and/or trauma related challenges. Learn from a peer in recovery and share experiences to help others. Get and give support that is based on respect and mutual agreement of what's helpful. Move past fears and towards your goals and aspirations. Join our peer recovery groups to share recovery ideas and coping skills. We offer services at our Harrisonburg center as well as home-based and virtual services.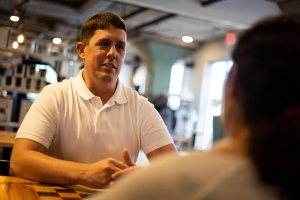 Intakes are welcome during walk-in hours:
Monday through Friday, 9:00 am to 12:00 pm
We also offer in-person and virtual peer-led support groups and workshops including SMART Recovery, Recovery Planning, Women's Empowerment Group, and Anger Management. All are welcome. No registration is needed.