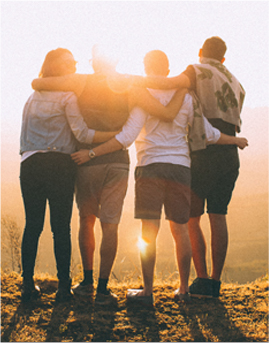 PTSD – or post-traumatic stress disorder – may manifest in different ways for different people. Both acute and chronic forms of PTSD develop "after a distressing or catastrophic event" (MHFA, 42). Examples of these event include, but are not limited to, sexual assault, automobile accidents, war, mugging, domestic violence, and natural disasters. PTSD "is more likely to develop… if the response to an event involves intense fear, helplessness, or horror" (MHFA, 42).
People diagnosed with PTSD may experience some of the following symptoms: hypervigilance, irritability, anxiety, flashbacks, guilt, jumpiness, and nightmares. For instance, an individual diagnosed with PTSD may request to sit arranged facing an exit or experience heightened irritability or an outburst while in a crowded, public space.
PTSD requires a medical diagnosis. If PTSD disrupts one's everyday life, then treatment may be an option.
Looking for resources to help support your family member of friend? Check out the VA's PTSD Coach mobile app. The app offers insight about PTSD signs and symptoms, treatments, self-reporting tools, and information about coping skills. **This app is not intended to replace professional help.**
Also, as someone supporting a loved one diagnosed with PTSD, remember to take time for yourself and practice self-care. This may take the form of exercise, meditation, or even taking the time to go to an annual physical check-up. Support groups may also be an option. Strength In Peers and other area agencies offer regular support groups for those managing their role as a caretaker. See our group calendar here for an up-to-date listing of group offerings at Strength In Peers (effective June, July, and August 2017).
The keys to managing PTSD are education and connection with reliable, professional resources. Peer Perspectives has compiled a few informative resources:
https://strengthinpeers.org/wp-content/uploads/2018/12/blog1.jpg
343
269
Nicky
/wp-content/themes/sip-enfold-child/images/siplogo_1.svg
Nicky
2016-08-15 08:31:59
2020-02-19 14:56:55
Learn, Connect, Share For PTSD Awareness